I recently added a new Hello Fall SVG to my Crafty Canada Studio shop.  It includes fun fonts, and a cute pumpkin silhouette.  I decided to make a little sign using this design for my counter.  I paired it with a quick sock gnome that I made, as well as some stacked books I did using my Pumpkin Spice Season SVG as a stamp.
For my sign, I used a piece of MDF wood measuring approximately 9″ high by 5″ wide, and painted it Terrace White from C I L paints.  I then distressed the edges with distress ink to give it a more rustic, farmhouse look.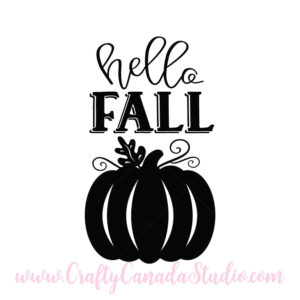 I cut my Hello Fall SVG out in vinyl using my Cricut Maker at approximately 7″ high by 4″ wide.  (This design works great if you can do it around this size or bigger because of the narrow curls on the pumpkin.  It may not cut as well in smaller designs.)  I weeded my image, and used some clear shelf liner that I found at the Dollar Tree as my transfer tape.  This is perfect because it's transparent, and cheap!  You may need to use something to pull parts of the design away from your transfer tape and onto your board, as the vinyl doesn't always pull away that easily.  I personally use a sewing pin.  I do have the Cricut pick, but actually prefer to use my pin.
Once my vinyl stencil was on my board, I used a cheap foam dabber that I bought at another dollar store, and dabbed black paint all over my design.  I let it dry and did it a second time to give it good coverage.  Once that was dry I carefully pulled my vinyl off of my board.  For some reason when I did this it pulled away a bunch of my white paint.  I'm thinking I didn't let it dry long enough before putting on my stencil.  I actually didn't mind how it looked, because it gave it even more of a rustic look!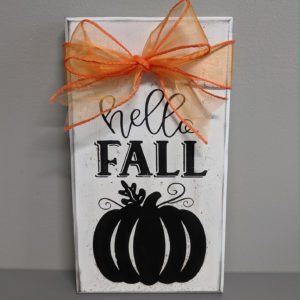 To finish off my sign, I added a piece of orange ribbon to the top.  And there you have it, a cute fall sign!
Hello Fall with Pumpkin SVG here: https://craftycanadastudio.com/product/hello-fall-with-pumpkin/
Pumpkin Spice Season SVG: https://craftycanadastudio.com/product/pumpkin-spice-season/