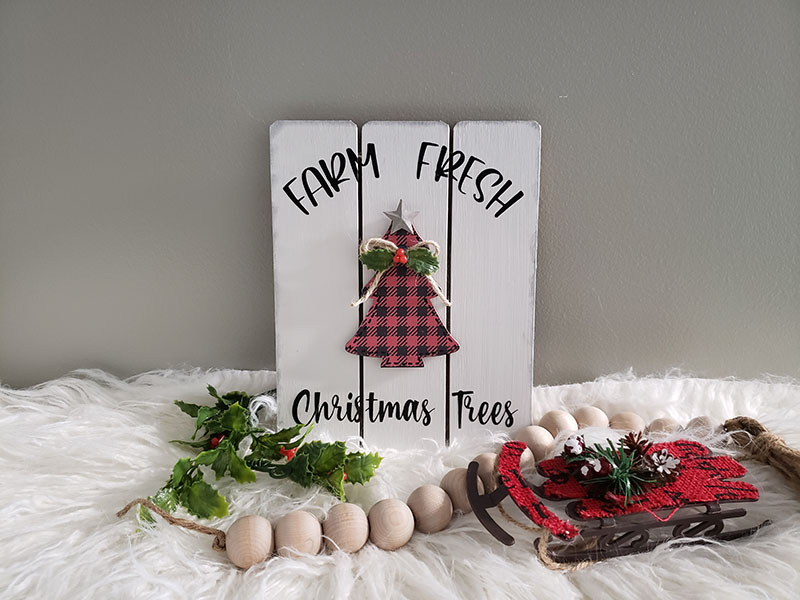 I recently created this Farm Fresh Christmas Trees SVG to use with the Cricut and Silhouette machines.  I included this cute Christmas tree, which comes with the tree done in a red and black buffalo check pattern in PNG format, to use for printing and cutting.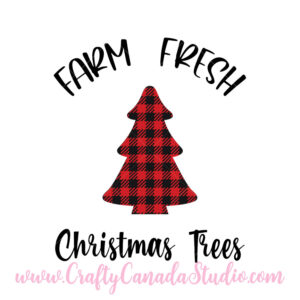 I thought it would be fun to make over a dollar store sign, so I used this one which I think I got from Your Dollar Store With More.  I'm not sure if this is just a Canadian Dollar Store, but you find lots of great signs to use from pretty much any dollar store.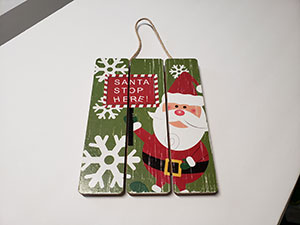 To prep my sign, I started out by giving it a light sanding with just a small piece of sand paper.  I then started painting it with some latex paint from Home Depot, but it was covering way too thin, so I used my white chalk paint by Rustoleum.  This paint covered a lot thicker, and dried fairly fast.  I did still have to apply a couple more coats, so perhaps a little more sanding would have helped the paint to cover better.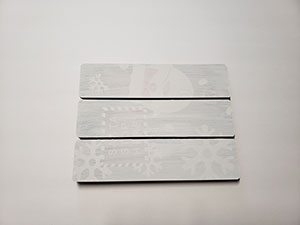 I used a cereal box to turn my Christmas tree into a chipboard tree.  To do this, I cut out 3 of these trees.  You'll want to cut the plain Christmas tree SVG on its own to use for your chipboard die cut.  Duplicate it so you have the number of layers you'd like to use for your chipboard die cut.  I cut out 3 trees, to have 3 layers in my die cut, which turned out to be perfect! I used the light chipboard setting on my Cricut Maker, and cut each tree out twice.  Now, each tree will automatically cut out two times after hitting the CUT button a single time.  Once they're done cutting and it pushes your mat out, don't touch the mat release button!  Hit CUT again so it'll pull the mat back in and cut your trees out a second time.  When all is said and done, the blade should have cut the trees for a total of four times.  If you do accidentally hit the mat release button then chances are slim that your blade will line up exactly where it had cut before.  You may need to finish cutting them out with scissors.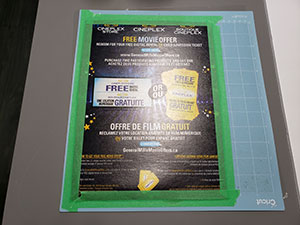 I find it's a bit of trial and error when cutting cardboard, such as cereal boxes.  Some boxes seem to be a little thicker than others, and cuts don't always turn out perfect.  Perhaps there's another setting I should try on my machine.  I find the cereal box setting just doesn't cut great, even when I cut them twice.  And you have to make sure you place your cardboard image side up so the blade cuts through that paper layer first.  If  you want your finished die cut to have the brown cardboard side up when you're done, then flip your image within your Cricut program before cutting, otherwise the cereal box picture will be the top of your chipboard die cut.  I prefer the cardboard side to be on top if I'm painting my die cut, but if I'm going to glue a top layer on, like the buffalo check tree, then it doesn't matter.
Once your trees are cut out, clean up the edges if you need to with your sandpaper, then mod podge, or glue them together.  Don't use hot glue, as the layers probably won't sit flat.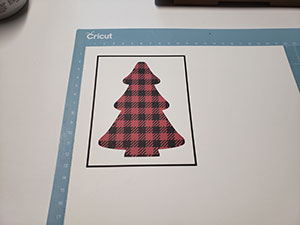 Next, I used the buffalo check PNG, which is included with the SVG, to do a print and cut.  The buffalo check tree will open at the same size as the plain Christmas tree SVG that opens with the Farm Fresh Christmas Tree quote.  If you want to re-size your tree, I'd say open the buffalo check tree PNG onto your mat, along with the SVG, then group and re-size them together.  If you want your tree bigger, but don't want the text bigger, then just re-size your tree.  Ungroup your SVG to hide the plain tree if you aren't using it.  You may need to ungroup things a couple time here.  Once my tree was cut out, I drew on some stitch marks with a black sharpie, and mod podged it onto my chipboard tree.  I then hot glued on a little bow and some holly leaves for a cute little embellishment.
To finish off my sign, I used my Cricut machine and some matte black vinyl to cut out my Farm Fresh Christmas Trees quote.  I transferred the vinyl quote onto my sign using some clear shelf liner from the Dollar tree as my transfer tape.  This stuff works really well, and is super cheap!  I then inked around the edges of my sign with some silver distressing ink that I had on hand.  You could use paint as well, or you could dry brush all over your sign to give it more of a rustic, farmhouse look.  I then hot glued my tree onto to the middle to complete my sign.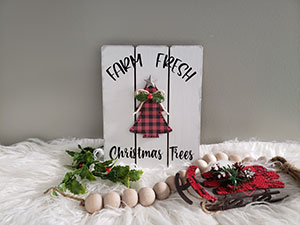 This was actually a really easy sign to make.  I love how my chipboard tree turned out too!  You could use this tree as a gift tag, make it into a Christmas tree decoration just by cutting a hole in the top and adding some ribbon, or cutting it out bigger and using it as a sign all on it own.  Although using cereal boxes is  a little tedious, once the pieces are layered together they create a really sturdy chipboard die cut, and I highly recommend trying it.  If you haven't cut cardboard before, I'd try some practice cuts first to get it on the right setting, but it'll be worth it once you figure it out, so start saving all those empty carboard boxes!  And be sure to send a photo of your Farm Fresh Christmas Trees DIY to sales@craftycanadastudio.com so I can share your ideas with my other viewers.  Merry Christmas and Happy Holidays!
You can watch my online YouTube tutorial here:  https://www.youtube.com/watch?v=d5LrA21Dim4
You can find my Farm Fresh Christmas Trees SVG and PNG tree here:  https://craftycanadastudio.com/product/farm-fresh-christmas-trees-svg/
Follow me on Instagram:  @craftycanadastudio
Facebook:  Crafty Canada Studio
Pinterest:  Crafty Canada Studio
#farmfreshchristmastreessvg #cricutsvg #cricut #cricutcraft #cricutdiy #craftycanadastudio #diysign #diyfarmhousesign #svg #svgfiles #cricutsvg #printandcut #buffalocheck #redandblackbuffalocheck #christmastreesvg #chipboarddiy #chipboardchristmastree