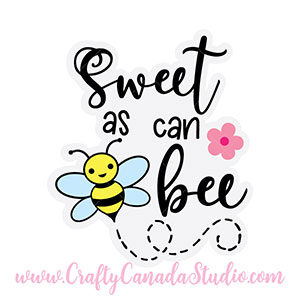 If you're planning a Bee themed party, for something like a birthday or a baby shower, my Sweet As Can Bee SVG  would be perfect for creating decorations!
This bee SVG is also available separate from the quote.  I used it to create my DIY bee garland.  I duplicated both the bee and flower several times in my Cricut program, and flattened my image so I could do a print and cut onto white card stock.  I kept the white background because I thought the border helped them to stand out a little more.  You could do die cuts with both of these graphics as well, and piece each one together for a little more dimension.   I was lazy though, so I opted for the print and cut version, and added some little gemstones on my bee's feelers, as well as in the center of each flower.  I then hot glued each one onto a long string for hanging.  I was worried the hot glue might show through my paper, but it actually worked really well.  It may depend on your paper though!  I just used card stock from Michael's.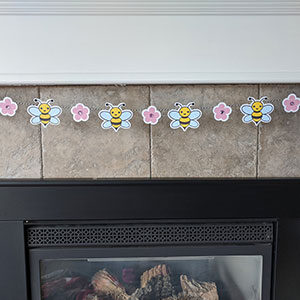 I also made a quick little card using my Sweet As Can Bee SVG.  I did a print and cut as well on this, and kept the white border as my background.  I simply cut a piece of white card stock at 4 inches tall by 8 inches wide to create a small 4×4 inch card.  I set my Sweet As Can Be image at 3 inches wide, and made sure the height would fit within my 4 inch square.  You could always separate the image in your Cricut program, delete the white background, and set your words and graphics how you like.  Then you could just print it, and cut it out with scissors as well.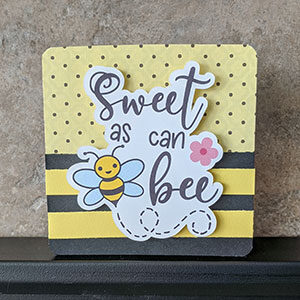 I added some yellow with black polka dots paper, that I had on hand, to the front of my card, as well black card stock to the bottom half, cut at 2×4 inches.  I cut some quarter inch strips of yellow card stock and glued it to my black paper.  I then attached my Sweet As Can Bee graphic to the front with pop dots.  To finish it off, I used my corner punch to give my card rounded corners.
These are a couple ideas for creating party decorations.  Cupcake toppers could also be easily made doing a print and cut, and attaching your cutouts to toothpicks as well.
To create your own projects, you can find these SVG files here:
Bee and Flower SVG: https://craftycanadastudio.com/product/bee/
Sweet As Can Bee SVG: https://craftycanadastudio.com/product/sweet-as-can-bee/
Crafty Canada Studio Shop: https://craftycanadastudio.com/