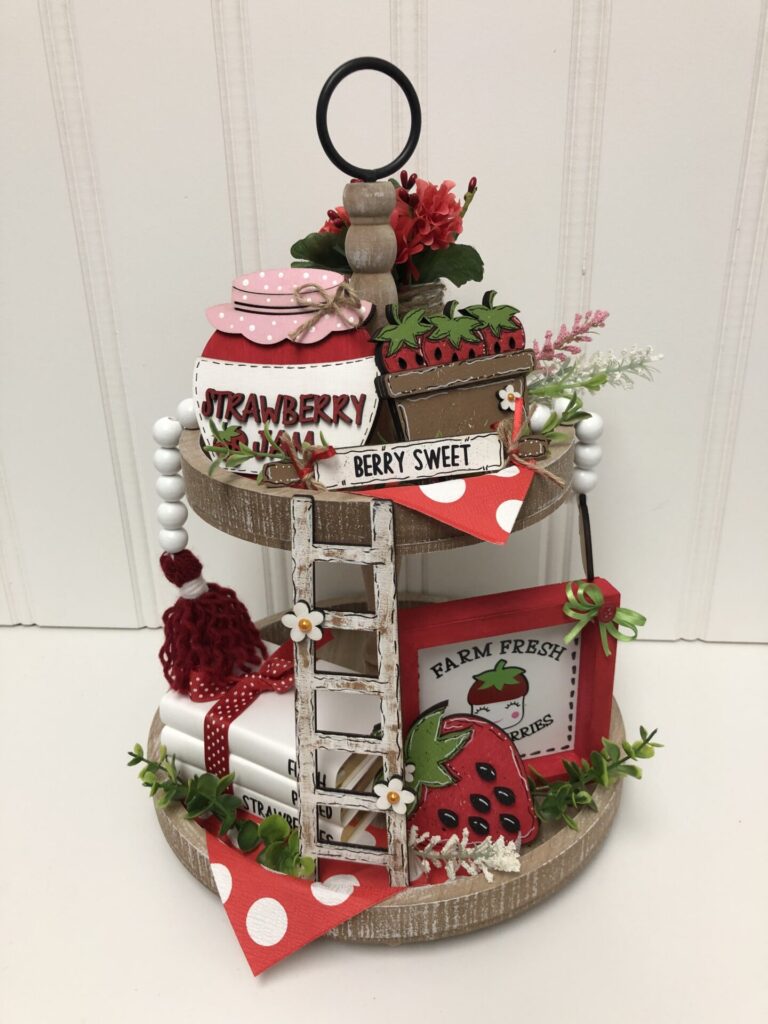 Strawberry themed tiered tray ideas have been popping up on different social media sites lately, so I created a bunch of different strawberry themed SVG files to create my own tiered tray decor.
I've grouped them all into one listing, and have them each available on their own as well.  Included in the grouped listing is are my:'
Farm Fresh Strawberries with marshmallow cup SVG
Berry Sweet Rolling Pin SVG
Strawberry and Strawberry Charm/Keychain SVG
Basket of Strawberries SVG
Strawberry Jam SVG
Ladder with Daisies SVG
Fresh Picked Strawberris Text SVG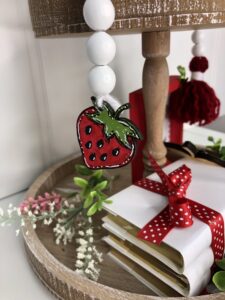 I paired the Farm Fresh Strawberries marshmallow cup SVG with a small wood blank frame from the dollar store.  I painted the inside white and the frame red, then cut my SVG out in vinyl and stuck it on.  I used a marker to add some dashes around the outside just to give it a little extra detail.  I then created a small bow out of green ribbon and added a tiny red button to the center to finish off my sign.  The vinyl for the marshmallow cup had to be layered, and worked out perfectly!
I used my X-tool laser cutting machine to cut my strawberry jam jar, ladder, basket of strawberries, rolling pin, large strawberry, and strawberry garland charm out of 1/8″ birch wood.  These were fun to make because I was able to layer my pieces to give them extra dimension.  I used fine tip acrylic paint markers in white and black to add the extra squiggly details around my strawberries and basket of berries.  (The brand of markers I bought are by Flysea.  I bought them off Amazon, and I LOVE them.  They work so much better for me than the Sharpie ones I've bought in the past).
The white beads for my garland came from either Amazon or the dollar store; they've been in my stash so long that I can't remember.  I just used some dark red yarn to create a tassel, and strung my berry onto the other end.  I used some jute and thin ribbon to make little bows for my jam jar and rolling pin, as well as my Cricut Explore to cut the words out for the rolling pin and stacked books.
I added a bit of greenery and flowers from the dollar store to finish decorating my tiered tray.  I think it turned out so cute, and these SVGs can be used for other types of projects as well.  I think the jam jar, ladder and rolling pin could all be done in Christmas colors to create some fun Christmas pieces.  The text doesn't have to be used with the item.  I think for the rolling pin I might add a Christmas quote, and the jam jar would be fun to have some Christmas scrapbook paper added to the lid.
If you create something with any of these SVG files I'd love to see a photo, and share it on my website.  You can send photos to info@craftycanada.com.  Use the coupon code BERRY20 to get 20% my Strawberry SVG kit.
Thanks for stopping by!