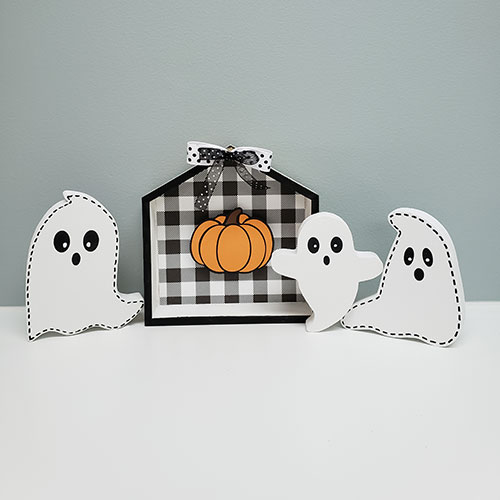 I recently added four new ghost SVG files to my shop, which you can view here: SHOP, and thought it would be fun to cut some of them out with my bandsaw to create some Halloween decor.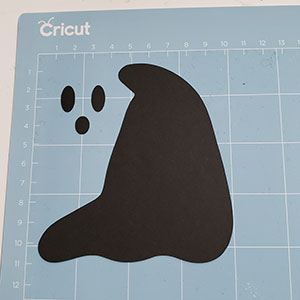 The first step was to cut my ghost with my Cricut machine.  I only had 4″ wide pieces of pine wood to work with, which were left over from other projects, so my ghosts could only be 3.75″ wide, by whatever the corresponding height ended up being for each of them.  I then used my cutout cardstock ghost to trace onto my wood, and set the eyes and mouth aside for later.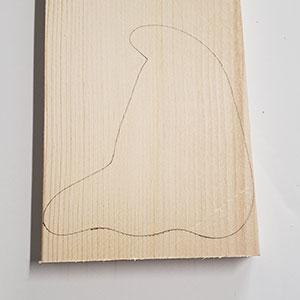 I then cut my ghosts out using my bandsaw, which I haven't used in quite some time.  If you don't have a bandsaw you could cut these ghosts out using the Glowforge or a jigsaw.  I'm not ready to invest in the Glowforge yet, and I'm quite happy to use my saw.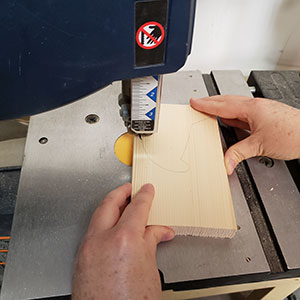 Once cut out, I sanded all the edges with my bench mount verticle sander.  I thought I got a picture of that, but apparently not.  If you're unfamiliar with this type of sander and either do, or want to, cut out a lot of wood shapes using a band saw or jig saw, I highly recommend getting one of these belt sanders!
Once my wood ghost was cut out, I painted it with some white paint.  I then glued on my little eyes and mouth with some mod podge, and added dashes around the edge with a black sharpie.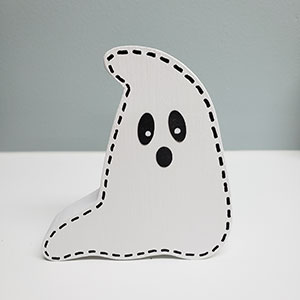 I think these ghosts turned out so cute!  They're perfect for adding to a Halloween themed tiered tray, as a decoration on a shelf or mantle, or you could use them to create Halloween garlands and die cuts.  The SVG comes with one ghost with black dots already all around the edge, and a ghost without the dots.  The ghost with dots would be great for creating print and cut die cuts, as there are lots of tiny dot to be cut out otherwise.  If you do choose the cut the ghost with the dots, I'd suggest doing so on a larger ghost, as your paper or vinyl may rip trying to cut them out otherwise.
You can find all my Halloween ghosts at my Crafty Canada Studio Shop.  I hope this gives you some inspiration, and feel free to share photos of any projects you create using my Ghost SVG files.  Photos can be emailed to info@craftycanada.com.  Thanks so much for stopping by!