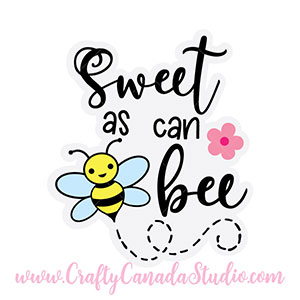 This cute garland was made using my Bee and Flower SVG.  I flattened my image in my Cricut program, and did a print and cut several times of each image.  I used white card stock to print them onto.  I kept the white background behind each because I thought it made them pop a little more.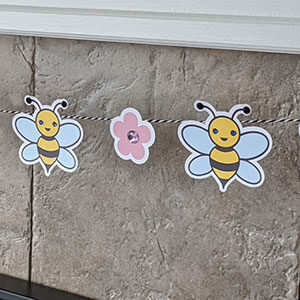 I added black gems to the bee's feelers, and purple gems to the center of each flower, to give them a little sparkle.  I then attached each one onto a long string, which I pre-measured, with my hot glue gun.  This would be super cute as a baby shower decoration, or for a toddler's bee themed birthday!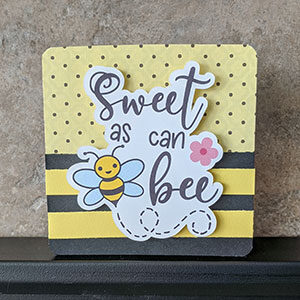 I also made this quick card using my Sweet As Can Bee SVG.  This graphic comes with a white background for doing print and cuts, which is what I did.  For the card, I simply cut a piece of white card stock at 4 inches by 8 inches, and folded in the middle.  I the cut a piece of yellow with black polka dotted paper at 4 inches wide and tall, and attached it to the front with double sided tape.  I also cut a black piece of card stock at 2 inches by 4 inches, and attached it to the bottom of my card, along with 1/4 inch strips of yellow paper glued on top.  I rounded the corners using a corner punch.  My Sweet As Can Bee image was then stuck on with pop dots to make it pop off the paper a little.
These are quick, simple, and cute projects that can be done with this bee SVG.  Other ideas include cupcake toppers, gift tags, signs, and t-shirt decals.
To create your own projects, you can find these SVG files here:
Bee and Flower SVG: https://craftycanadastudio.com/product/bee/
Sweet As Can Bee SVG: https://craftycanadastudio.com/product/sweet-as-can-bee/